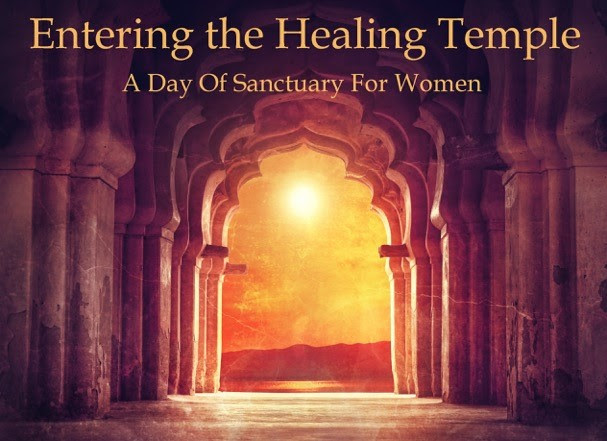 Do you need a real day off? …to step off the wheel, and find deep peace within yourself, that can be accessed privately, within the presence of other women?
And receive a variety of healing treatments and be guided through a process of deep replenishment?
How would you feel, to have a lot of silence, as well as space where you can talk about the deep and the real, without being chatty?
What would it be, to enter a space where it's not about being a parent, a spouse, a public figure, an employer/employee… but about being a woman, and what it is to live this life?
Entering the Healing Temple — A Day of Sanctuary for Women is coming to the Columbia River Gorge on Saturday, December 3rd. 
Entering the Healing Temple is a cross between a meditation retreat, a ritual, and a healing spa — a whole day to receive, reflect, and rejuvenate, in the mostly-silent presence of other women. It's intimate — only 15 women, being served by 5 Healing Practitioners and two other staff — with food/lunch provided.
I've invited five amazing Healing Practitioners to this extraordinary, intimate and powerful event. See who they are HERE
You'll be receiving mini-sessions from each of them.
This is an incredible way to use the "input" of body/mind Healers to inform your inner process around  whatever intention you bring to the day.
Give your busy, hard-working soul some Deep Peace.
Join an intimate group of women the Historic Balch Hotel–where you can actually stretch the day into a full-on weekend retreat, if you like!
We'll gather at the Historic Balch Hotel, where we'll have a juicy retreat option! For the first time, you can stretch this extraordinary day into a weekend retreat — complete with complimentary, and optional gatherings on Friday evening and Sunday morning (lodging not included in retreat fee). On site spa services are available, too.
Check it out HERE if you want to see what it's all about!
You might be wondering what it's been like, by women who have attended previously:
"I feel peaceful, introspective, calm."  — Superintendent, Regional Marine Sanctuary
"I feel Amazing! Grounded and solid."— Nursing Student
"I feel satisfied, calm, grateful, wise." — Elementary School Teacher
"This has been such a necessary treat to myself. All people should have this opportunity." — Community Health Educator
Come join us! It's like stepping into this oasis of ahhhhh… far away from day-to-day demands, and into the realm of magic.
With all that's going on in your world, get ready to think about having a DAY to Exhale…
Mark your calendar for Saturday, December 3rd!
For more information click here:
Note: space is very limited. This day is designed for only 15 participants.
November 11th is the Early Bird Deadline.